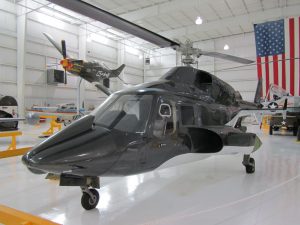 Welcome to a fan site for the television show from the 1980's:  Airwolf.  We intend to offer some unique and hard-to-find information, as well as serve as a resource for longtime & first time fans of the show.
There are several other Airwolf fan websites, blogs, forums, YouTube channels and more pertaining to Airwolf.  They cover a wide range of topics such as the music used during the series, episode guides, memorabilia and more.  We will be linking and citing those resources (giving them full credit!) for their efforts to preserve the history of the TV show, the musicians, the actors and more.
This website's unique approach will be to give exposure to the unique aspects of the TV show, little-known content except to the most die-hard fans of the show, and to give background information on many people involved with the television show in one way or another.  Besides the main actors, this content will include:
Information about the part-time actors and extras in the show
Stunt coordinators
More about the actual helicopter used as well as more information about the Bell 222 model
Background of the show in order to give the episodes more depth when you watch them
Producers and directors
The show's writers and editors
More about the various themes and scores used throughout the show
Airwolf's ties to future TV shows and movies and society
The international exposure Airwolf received
Background on various filming locations for the show, including more about where Airwolf was supposedly hiding during the episodes
Much more
All images and videos you see on this site either are credited, from the public domain, or will be sourced/cited in terms of where the images/videos were discovered.  No copyright infringement intended.
Thank you to friends of the site who like Airwolf: